Bmw M4 G82
1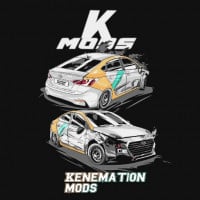 ❗❗High-quality mod.
❗Mod features :
✅14 configurations.
✅Several beautiful skins.
✅Under all parts of the car.
✅Ability to change the color of the headlights.
✅Ability to change skin color.
✅Working dashboard.
✅All PBR textures.
✅Own engine compartment.
✅Several different body kits.
✅100% Jbeamed.
❗Disadvantages of modification :
❌Not noticed.
Sales Policy:
By purchasing this product , you acknowledge that you do not acquire any rights to brands and models. Only a privilege (mod) as a supporter our work.It's illegal to obtain or distribute an unpaid copy of this material or use it on any online servers.
Files
About Mod
| | |
| --- | --- |
| Latest Version | 1 |
| Game | BeamNG.drive |
| Category | Cars |
| Game Version | 0.26.x |
| Downloads | 11824 |
| Created | 2 months ago |