FS19_Walmart_Supermarket_V2
2.0.0.0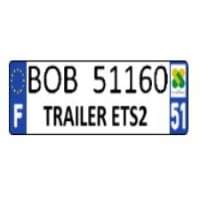 Bonjour a tous aujourd'hui je vous présente,la nouvelle version 2 du point de vente Walmart,normalement s'est un magasin pour acheter mais moi j'ai voulut faire le contraire,vous pouvez vendre presque tous, des drapeaux en été ajouter,des banieres Walmart, pour entrée dans le magasin vous devez respecter l'heure d'ouverture et de fermeture,une porte vitrée électrique a été ajouter entre le sas de vente et le magasin, et si vous le voulez vous pouvez aussi déplacer les palettes de déco elle reprendront leurs places a chaque entrée dans le jeu,pour plus de renseignement voir les photos ci joint,bon jeu a tous....BOB51160.

Hello everyone today I present to you, the new version 2 of the Walmart point of sale, normally is a store to buy but I wanted to do the opposite, you can sell almost all, flags in summer add, Walmart banieres, to enter the store you must respect the opening and closing time, an electric glass door has been added between the sales airlock and the store, and if you want you can also move the pallets from decoration they will resume their places at each entry in the game, for more information see the attached photos, good game everyone .... BOB51160.

Hallo allerseits, heute präsentiere ich Ihnen, die neue Version 2 der Walmart-Verkaufsstelle, normalerweise ist ein Geschäft zu kaufen, aber ich wollte das Gegenteil tun, Sie können fast alle verkaufen, Flaggen im Sommer hinzufügen, Walmart Banieres, um die zu betreten Geschäft Sie müssen die Öffnungs- und Schließzeit einhalten, eine elektrische Glastür wurde zwischen der Verkaufsschleuse und dem Geschäft hinzugefügt, und wenn Sie möchten, können Sie auch die Paletten von der Dekoration entfernen, sie werden ihre Plätze bei jedem Eintrag im Spiel wieder einnehmen, z Weitere Informationen finden Sie auf den beigefügten Fotos, gutes Spiel für alle .... BOB51160.
Files