Landbauer DTS 300
v 1.0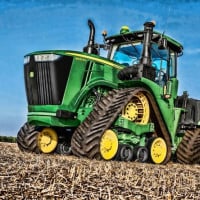 Description:
The "Landbauer DTS 300" is a modification by the manufacturer Fliegl. With an unladen weight of just 5,400 kg, the three-axle vehicle offers a permissible payload of 17,600 kg (technically 24,600 kg). The low-loader trailer was equipped with additional attachments and has a Landbauer Edition color choice for individual design.
● Landbauer DTS 300
● Purchase price: € 42.000
● All configurations are free
● To be found in the game under: Shop / Devices / Flatbed
● Languages: Deutsch, English, Français, Italiano, Spanish, Polski
● Support and further information is only available from FBM.
● File size of MOD: 4.66 MB
Thanksgiving:
BPW Bergischeachsen KG in Wiehl for the friendly permission to use the trademark.
BPW Bergische Axles is a protected brand name and may not be used without written permission.
Credits:
Giants Software GmbH (Spieleentwickler)

Forbidden-Mods.de (Publisher)

Landbauer (3D Artist & Ingame)

BPW Bergische Achsen KG (Markennutzung)

Thorsten73 (MOD-Tester)

Files