New Giants Island
v 1.0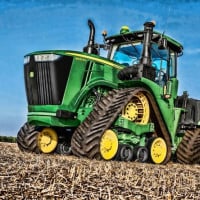 Description:
Experience the beginnings! Welcome back to the map from Farming Simulator 2009. Pure nostalgia! But with some extras.
- There are 29 fields available on the map from small to large.
- Three different forest areas give you direct access to forestry.
- Some fountains are distributed as water sources, and of course the sea.
- There are also collectibles. Look forward to an exciting search for gold pieces.
- There are over 20 points of sale, as well as all standard productions.
- The seasonal growth has been adapted to the mild climate of the island.
- Many objects are only visible during the corresponding seasons, times or weather conditions.
- In addition, the farm has already been equipped with storage facilities, as well as a cowshed and a few chickens.
- By purchasing the districts, a sheepfold, a pigsty and a BGA can also be used.
- In addition, friends of AutoDrive can be pleased, a course is already integrated into the map.
- Added an iron purchase station and corresponding points of sale for the new products to support the Platinum DLC.
- Precision Farming DLC supported.
Credits:
MX11

Files