BMW X5 (F15/F85)
1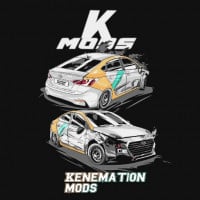 Immerse yourself in a world of elegance and power with the BMW X5. Superior performance, luxurious design and cutting-edge technology await you behind the wheel of this ideal SUV.

❗❗High-quality mod.
❗Mod features:
✅14 configurations.
✅Body types: X5 (F15); X5M (F85).
✅Original Openable.
✅PBR materials + PBR light.
✅Engines with real characteristics.
✅Real engine sounds (On, Off, Driving).
✅Digital screens with original automotive fonts.
✅Several types of dashboard (Depending on the selected engine).
✅Working Head-Up display (Speed projection on the windshield)
✅Realistic car physics (Real weight + Engine characteristics).
✅High-quality Force Feedback due to real travel and suspension stiffness.
✅Different suspension depending on the chosen body type (on the F15 it is softer and less controllable) (on the X5M F85 it is stiffer and more controllable).
✅Custom tires.
✅3 types of tires. (F85 - more road grip, F15 - less road grip, F15 - less road grip for a smaller wheel radius).
✅High-quality tinting.
✅New navigation system.
✅High-quality interior materials.
✅Support for skins (2 Stripes, Stripe on the side, M-Line, Police, Camouflage).
✅Many options for interior colors (Unique system through 2 palettes).
✅Several types of inserts in the interior (Aluminum, Wood, Carbon).
✅Ambient Lighting lighting in the interior (Changes color through palette 3).
✅Correctly adjusted headlights, taking into account all the features of the car.
✅Large selection of tuning: engine tuning, tinting, body kit.
✅Police version with its own details (grill between driver and rear passenger, police instruments on the dashboard, light beams, police skin).
✅Ability to install an RCS number frame.
✅Animations in the cabin (Turn signals, Gearbox shift, Pedals).
✅High-quality work under the bumpers.
❌Disadvantages:
If you find any disadvantages, please contact us via private messages.

BMW X5 (F15/F85) is the pinnacle in the world of premium SUVs. This vehicle combines power, elegance and advanced technology for an unrivaled automotive experience.
BMW X5 (F15/F85) is as realistic as possible: opening doors, real engine sounds, engine characteristics, physics and suspension travel, and most importantly, real dashboards. Experience the full range of driving experiences of the virtual world.

Sales Policy:
By purchasing this product , you acknowledge that you do not acquire any rights to brands and models. Only a privilege (mod) as a supporter our work.It's illegal to obtain or distribute an unpaid copy of this material or use it on any online servers.
Files
About Mod
| | |
| --- | --- |
| Latest Version | 1 |
| Game | BeamNG.drive |
| Category | Cars |
| Game Version | 0.29.x |
| Downloads | 5009 |
| Created | 5 days ago |