Jeep Wrangler
1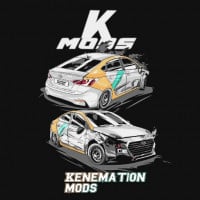 Jeep Wrangler is a legendary SUV that exudes adventure and freedom. With its iconic design, off-road capabilities, removable top and doors for open-air driving, and versatile features, it's the perfect vehicle for those seeking excitement, exploration, and the thrill of the great outdoors.
❗❗High-quality mod.
❗Mod features:
✅16 configurations with their own advantages inside.
✅Completely own working electronic dashboard.
✅Interior has high quality PBR textures, gauges and animations.
✅Animations in the interior (Automatic + mechanical gearbox, turn signals, handbrake and pedals).
✅3 different bumpers + amplification function. (Rubicon, Sahara, PushBar).
✅We haved great attention to detail on Off-Road configurations. Added "Command-Trac" system. (4WD High-4WD Low, 2WD High-2WD Low).
✅3 types of engines with their own model, sound and the most approximate characteristics.
✅Ability to tune the engine, install wheels for off-road.
✅A large number of parts to choose from: (panels, lining for optics, 3 types of hoods + bumpers, spoiler, roof rack, removable spare wheel, additional roof lighting).
✅Quality textures in the interior and exterior of the car.
✅Properly tuned headlights.
✅New PBR materials (light, headlight/lantern texture).
✅Adaptation to glass darkening (tinting).
✅Skin supports (Camouflage, Mountain Experience, Sahara Edition, etc).
❌Disadvantages:
If you find any disadvantages, please contact in private messages.

Exterior Jeep Wrangler: Features a boxy and angular body design with a distinctive seven-slot grille, round headlights, a removable top and doors that allow for outdoor driving. It has a high ground clearance and the ability to install large off-road tires, which allows it to overcome various obstacles and rough terrain. You can also add features like tow hooks, changeable ceiling plates, and a rear spare tire.

Interior Jeep Wrangler: Functional and beautiful, with an emphasis on usability and versatility. The instrument panel is simple and clear, with intuitive controls for off-road features such as Command Trac (4WD High-Low, 2WD High-Low). In our modification there are several versions with different gearboxes (mechanical and automatic), all of them are animated, as well as turn signals. It is also worth recalling that the screen on the dashboard is fully functional, it displays the speed and the gear you have selected.

In conclusion: The Jeep Wrangler is a versatile and capable off-road vehicle known for its off-road capability, distinctive design and reliable performance. We've made it into a game to offer you a unique driving experience for adventurers and outdoor enthusiasts, making it a popular choice for those who crave exploration and freedom on and off the road.

If you'd like to support our efforts and try out a Jeep Wrangler, you can support our efforts on Boosty or Patreon. Thanks for you attention!

Sales Policy:
By purchasing this product , you acknowledge that you do not acquire any rights to brands and models. Only a privilege (mod) as a supporter our work.
It's illegal to obtain or distribute an unpaid copy of this material or use it on any online servers.
Files
About Mod
| | |
| --- | --- |
| Latest Version | 1 |
| Game | BeamNG.drive |
| Category | Cars |
| Game Version | 0.27.x |
| Downloads | 9164 |
| Created | 7 months ago |