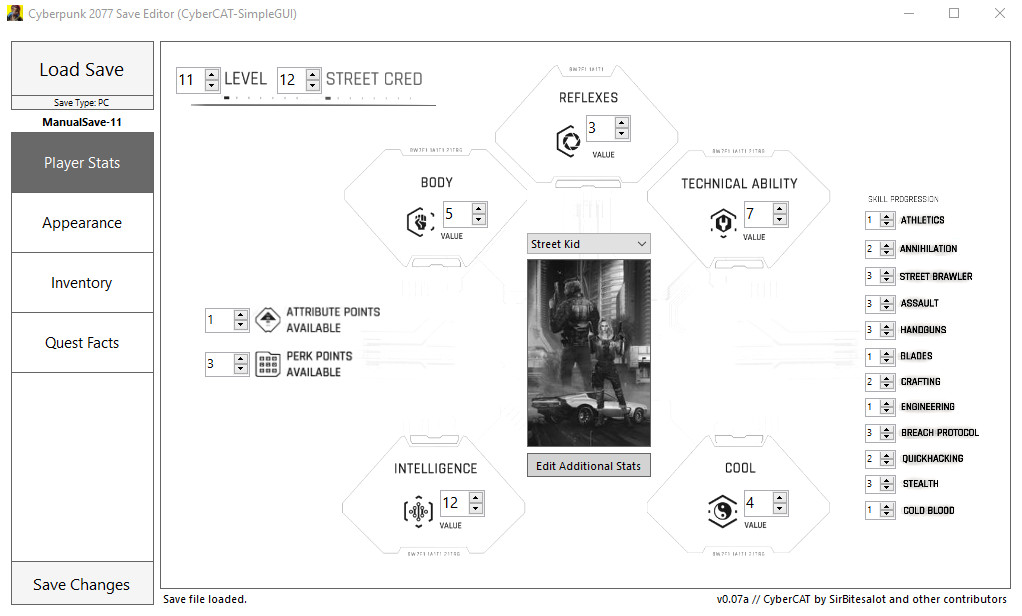 Save Editor (Project CyberCAT-SimpleGUI)
v0.08a
Changelog
latest

Version

v0.08a
1 year ago
Updates for v0.08a:
Added Facial Scars, Body Scars, Piercing Color, Cheek Makeup/Color, Blemishes, Nipples, Genitals, Penis Size, & Pubic Hair Style to the appearance tab.
Various bug fixes.
Various performance optimizations to the appearance tab.
Version

v0.03a
2 years ago
Updates for v0.03a:
Added 'Player Stats' tab.
Mod nodes can now be created/deleted.
Added quick action to remove all item flags.
Reworked item stats layout.
Minor performance optimizations.
About Mod
Latest Version
v0.08a
Game
Cyberpunk 2077
Category
Tools
Game Version

1.11

Downloads
6347
Created
2 years ago
Last Updated
1 year ago
Last Virus Scan

0/87


More Details