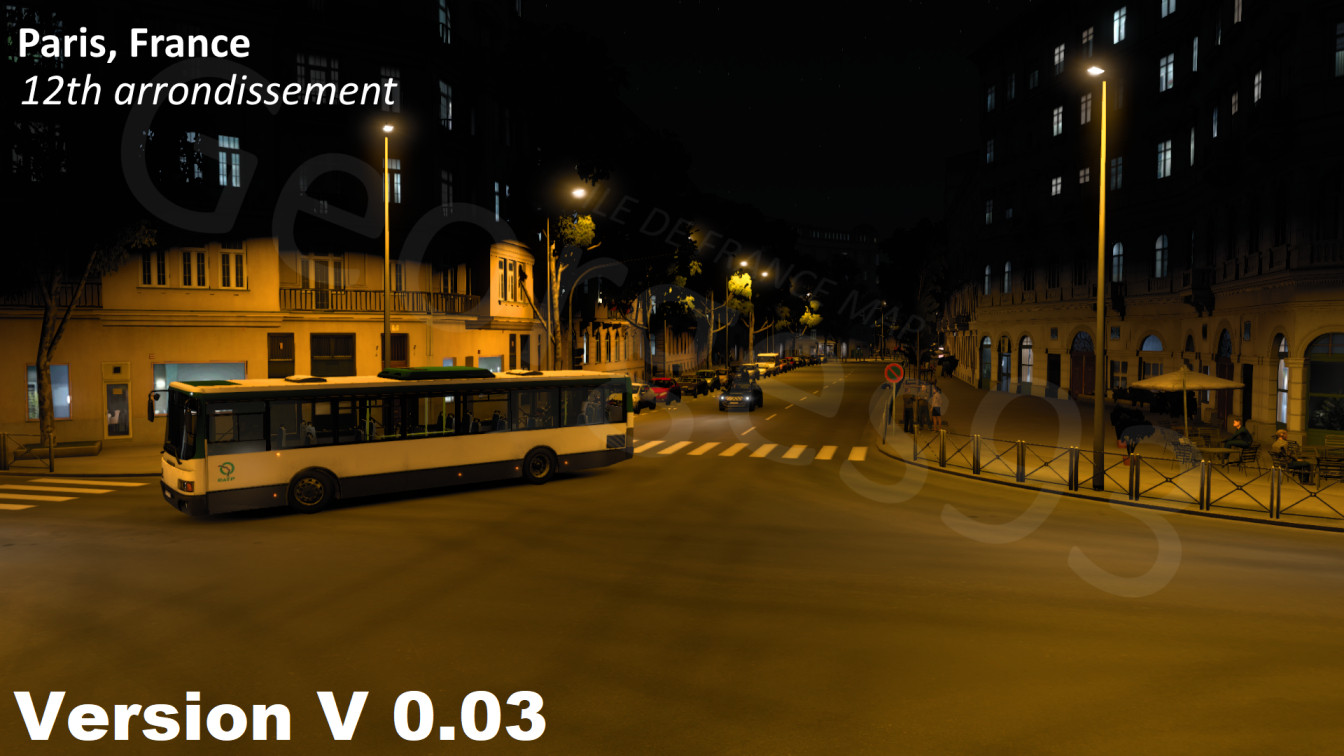 ÎLE-DE-FRANCE MAP by Georges93
0.03
Latest Update
latest

Version

0.03

· PARIS SUBURBS MAP V0.03 by Georges93 · ETS 2

1.45.x
1 month ago
LAST UPDATE : V0.03
[+] Added to this are the 12th and 20th arrondissements of Paris, which themselves comprise more than 5 kilometers combined of the interior of the city of Paris.
[+] Added the city of Villiers-sur-Marne.
[+] Added custom vehicles skins :

RATP, IDFM, TransDev and RoissyBus bus

Police Nationale, CRS and Gendarmerie vans

More skins to discover in the map !
[+] Added DAF truck dealer in Paris.
[+] Public transport buses (RATP/TransDev) stop at bus stops when they are on a bus lane.
[+] Fixed randoms bugs :

Removed randoms invisible walls on the map.

Added missings streets lights.

Fixed some console errors but a few remain for now.

Fixed the bug that some cities were not discoverable.
UPDATES
Update 0.1 :

[+] Cities of Rosny-sous-Bois, Charenton-le-Pont, Saint-Mandé, Vincennes, Bagnolet and the 12 and 20th districts of Paris.

[+] SNCF, Bercy 2, La Poste, Carrefour, Eiffage, SFCP, Westfield Rosny 2, Marché Grand Frais, Castorama and the Rosny-sous-Bois pedagogic farm companies.

[+] A3, A4, A86, A103 and A186 highways.
KNOWN BUGS
-> There are places on the map where there are holes or where we see the bottom of the map.
-> Somes errors can be found in the console.
-> The map may be laggy on some computers.
-> Some areas are not yet finished.
-> Some speeds limits doesn't work.
-> Some cities are not discovering at some areas.
FUTURE UPDATES
[+] Fixing all actual bugs.
[+] More translations.
[+] Highways signs rework.
[+] Cities of Villemomble, Bagnolet, Les Lilas, Vincennes, Montreuil, Romainville, Bobigny, Drancy, Aubervilliers, Bondy and Noisy-le-Sec.
[+] Add custom trailers matching with companies.
[+] Consistent deliveries with the production of the companies.
[+] More companies.