FS19 Osiek
v 2.4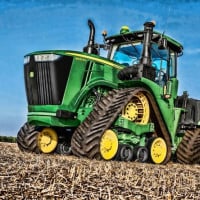 Updates
Description:
FS19 Osiek v1.0.2.1. multifruit Build your dream farm
Changes V.1.0.2.1.
1. Fixed sleep trigger arbitrarily set (Comfortable Bed)
2. Fixed animal food menu is now more efficient and readable
3. Added some decorative objects
4. Reduced traffic speed
5. Fixed triticale textures
6. Fixed indicated tree levitations
I recommend an additional modification pack. Season+Poplar together with FS19_GEO_Wielkopolska_Poland_Poznan which includes productions from the map Osiek. https://sharemods.com/c8jxlqepjp0b/FS19_Sezon_Poplar_Geo_Poland_UNPACK.zip.html
- Map x4 multifruit
- Rye, Triticale, Spelt, Millet, Onion, Carrot, Alfalfa, Clover, Field Grass, Pasture Grass, Horse Grass, Energy Grass.
- All the basic features of the game FS19 -The machines needed to harvest the new crops are included in the map -Lowland and hilly terrain
- Scrapers adapted for many add-on productions from other modifications
- No starter farm, you start with nothing only you choose how much cash you want to start by difficulty level. Now the easy level seems extremely difficult.
- Must build your own farm -Good paying transport missions
- Size of farmland from 1ha to 60ha
- Many places for your own buildings and structures
- Required FS19_GlobalCompany
- Required Manure System mod
- Note! A script installed on the map that resets crops to zero after buying or renting a field.
I wish you fun and success on the Osiek.
A big thank you to the modding community for developing the game Farm Symulator and thanks to the people testing the map in particular :
Luki eL, Adam, GR KOCZE, Despes.
Credits:
Yazu

Files