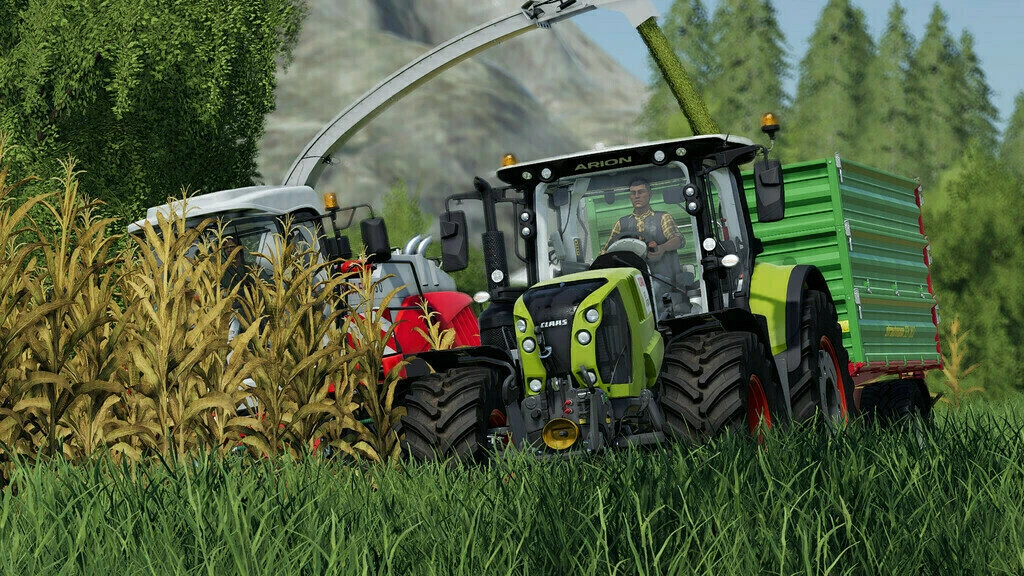 Latest Update
Description:
MaizePlus is the global extension including roundbales and bunker silos maize silage and silage.
You can also sell and feed the various silage types.
You can also use the MaizePlus_ccmExtension mod to create CCM.
In the bunker silos there are 4 types of silage and for feeding:.
- Maizesilage
- Grasssilage
- CCM
- Dissemination into wcs (crop silage).
Even if the silo is less than 4000 liters, it switches its fillType automatically to the fruit you are spending on.
If the Silo is greater than 4000 liters, fillType is set until the silo is emptied again (in the event of fermentation) or if silo is removed again to below 4000 L.
Due to the limitation of the maximum. 31 heightYou can only play MaizePlus on Basegame Maps (or Maps with Basegame-Fruits only) with seasons but without CCM Extension in vanilla FS (see below).
MaizePlus_ccmExtension can be added to your savegame and the CCM feature is enabled if you enable a map of more than 31 height types.
MaizePlus is a global mod that adds all you need to enable mod automatically (and the CCM extension based on a map/mod).
Our CCM FruitType is identical to MoreBunkerSilo and the CCM mill employed by LS-Modcompany to make raw ccm.
In order to avoid conflicts and problems due to similarities in fruit types and functions, we cannot recommend using MaizePlus and MoreBunkerSilo together on the same backup.
More detailed explanation of the height types and their limit:.
The default game/map is 31 heightTypes (fruits on the floor). The basegame uses 23 height types. This means that 8 more mods are to be used without changing the map's height type limit.
Our MaizePlus itself adds 4 new heightTypes, CCM-Extension adds another 2.
This means you can play MaizePlus on a max modmap with CCM-Extension. Except when you use the CCM extension, 2 additional fruit types or 4 additional fruit types, unless you are using another mod to add additional types of fruit.
Of course, if you play other mods that also add fruit types, you must also calculate them. (For example, Seasons adds 3 new heightTypes which means that the CCM Extension cannot be enabled to play MaizePlus with the Season, otherwise it will be 32 heightTypes).
This limit cannot be changed globally, unfortunately, but should be done by editing the map. But updates on a few well-known maps with higher types will soon be available.
Changelog V 1.4
-- Global tedder script added.
-- The global mower conditioner script has been added.
-- several bugfixes
Changelog V 1.3
-- Silas770 added greenMowingMower to allow grass and wheat to be mashed with seasons before the final stage of the growth.
-- Icons MaterialHolder added.
-- semiDry fruit added to HunkerSilo filltypes.
-- Pricing of fruit/filltype adjusted.
-- In addition to SiloClober, SiloAlfalfa and Semidry-horsegrass sales stations.
Changelog V 1.2
-- added to frutTypeConverters maize, crop_windrow, alfalfa (all) and clover (all).
-- Fermented material can be returned to the bunker silos.
-- crop_windrow added as chaff to bunkerSilos when there is a map.
-- FruitType mass adapted to Giant values.
-- bale-limit increased if patch 1. 6 isn't installed
-- sellpoints fixed
-- Display ThundR filltype (adds filltype name under icon Escape Menu).
-- Alfalfa6945 MixerDisplay added by [F/A] (shows the percentage of wagon mixers outside the car).
Changelog 1.1:
- Edits required for maizePlus-forage extension.
- bugfixes
Thank you very much to our agricultural agency partners who helped us to make MaizePlus and Extensions. Thanks also to Wopster and Rahkiin for helping, for example, to implement Seasons and Straw-Addon.
Alsot thanks to:
- Oxygenated alfalfa, carot and oignon texture.
- Wopster (again) for the help of his script.
- martinBigM500 for clover texture.
- Icons workflow. - workflows.
- Maizebale texture FSI.
- Many textures Eribus.
And great thanks to Giants for their support.
Permissions for Textures or other Content of MaizePlus can only be optained through Farming Agency.
Credits:
The-Alien-Paul and Modelleicher