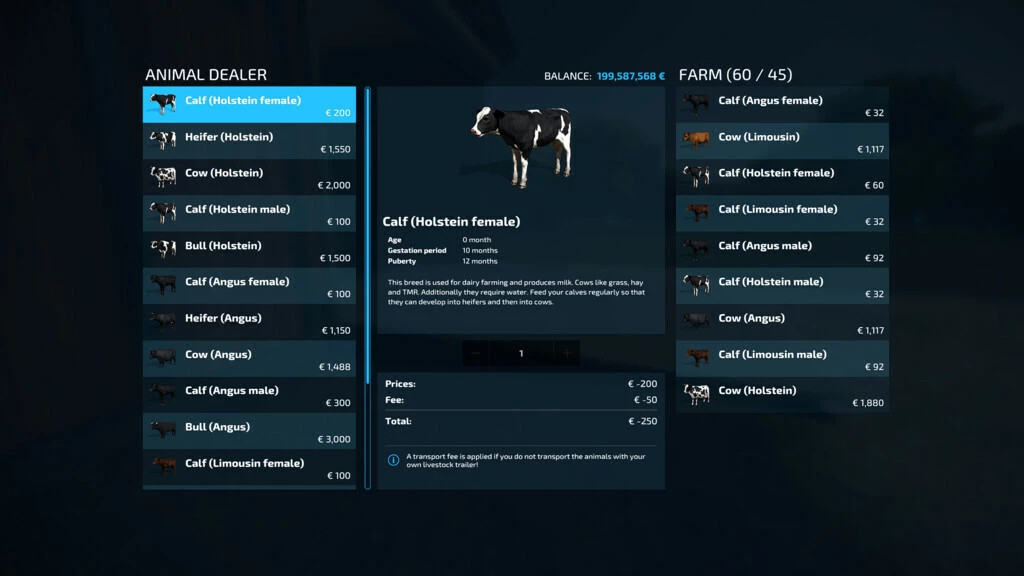 Enhanced Animal System
v 2.1
Latest Update
latest

Version

v 2.1
4 weeks ago
Changelog 2.1.0.0:
1.) Feature: Sheep and goats are now divided into individual breeds (The male ram and goat are lost in the update).
2.) Feature: Swiss cows are back.
3.) Change: The health of the animals decreases only after 12 hours of overcrowding.
4.) Bugfix: If other animals than cows, pigs, sheep, horses and chickens are already installed on a map, only these will be overwritten. All others remain and are loaded from the map.
5.) Bugfix: Animals can now become older than 60 months.
6.) Bugfix: Horses can be ridden again.
7.) Bugfix: Animals no longer change their texture at long distance.
Description:
This script adjusts the behavior of the animals in the barn.
This script adjusts three points:
1. Animals no longer get just one animal as offspring, but specifically many for the respective animal species (with scattering)
2. Stables can be overcrowded by the offspring, but this has an impact on the health of the animals.
Alternatively, animals that no longer fit in the barn can be sold directly.
This can be set in the animal menu (see screenshot).
3. Animals that are too old die randomly
Most values can be set via the settings xml. In order to remain realistic, the prices for the respective animals should be adjusted, otherwise the profit will be multiplied.
Credits:
Chissel