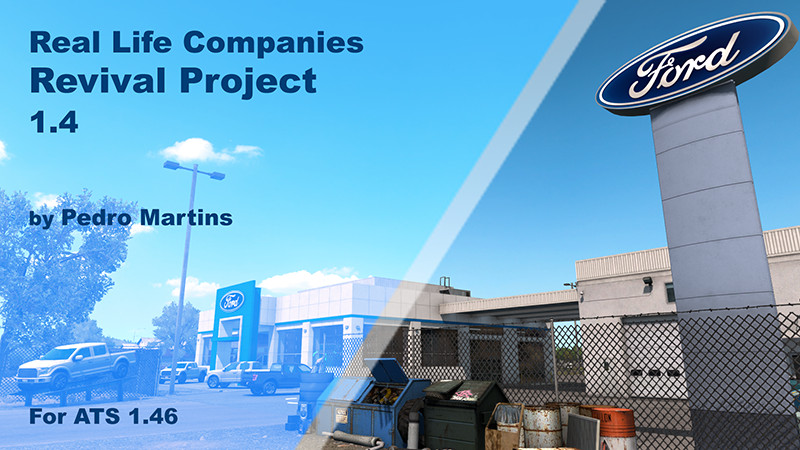 Real Life Companies Revival Project
1.4
Latest Update
latest

Version

1.4

· Real Life Companies Revival Project · ATS

1.46.x
1 year ago
This mod changes parody companies in the game to the realistic ones.
The mod was made after an extensive search about the US Companies on
each state and I choose the one most accurate to the reality.

Changelog V1.4:
- Changes to new dumper trailer company skins
- Changed Faraday to NorthWestern Energy
- Changed Great Falls Cargo to FedEx Ship Center Great Falls
- Changed Mon Couer to Artesa Winery
- Changed MWM to Waste Management Inc.
- Changed Waldens to Murdoch's Ranch & Home Supply
- Changed Sweet Beets to Western Sugar Co.
- Changed Ultimus(Former Volga Dnepr) to Antonov International Cargo Transport
- Fixed and updated some trailer textures
- Fixed names and UI logos for 1.46 company browser
- Changed remaining AI vans and train car textures

Tested on 1.46

More info on SCS Software Forum
Compatible with my other mods.
Real Life Companies Revival Project 1.1

This mod changes parody companies in the game to the realistic ones.
The mod was made after an extensive search about the US Companies on
each state and I choose the one most accurate to the reality.
The mod also includes the respective company trailers.

Changelog V1.1
- Updated to ATS 1.40
- Fixed texture errors in company logos broken by 1.40
- Fixed Home Depot Arrows and Building logos
- Updated: Dr Horton logo, Schnitzer logo, Boeing logo
- Changed Trident Seafoods totem (not the company) to Bellingham Cold Storage (BCS)
- Fixed Organic Valley box trailer textures
- Changed Tesla trailers

Authors: Pedro Martins, P16