Farming Simulator 17 Platinum Edition is Released!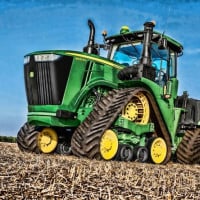 Farming Simulator 17 Platinum Edition is an exciting new release that will provide you with many hours of gaming fun. Coming with all kinds of great features, the Platinum Edition of Farming Simulator 17 is set in South America, where you can harvest sugar cane as new crop! This game provides an ultimate farming experience to all farming enthusiasts that want to enjoy in a completely new South American playground with some fantastic landscapes, scenic vegetation, impressive sugarcane fields and new addition of local cows.


Platinum Edition includes new vehicles, new environment, new crop and new farming simulator 2017 mods. Become a modern farmer and enjoy playing in three incredibly large open worlds where you can harvest many new things. South American playground offers nice landscapes and interesting railway network which expands the gameplay possibilities. In Farming Simulator 17 Platinum Edition you can ride as many as 280 different vehicles for farming and get farming equipment from over eighty different manufacturers. Some of the most famous farming manufacturers are represented like AGCO, which includes Massey Ferguson, Challenger, Fendt or Valtra, but you will also find some new farming brands like FMZ, Stara, TT or Gessner Industries.


When it comes to crops, in the Platinum edition you can harvest sugarcanes, soybeans, sunflowers, and many more others. You can also take care of plenty of different farm animals such as sheep, cows, pigs and chickens. With buying and selling you can expand your farm, and you will also have plenty of fun in transporting your farming goods with plenty of new trucks and trains. Great thing about Farming Simulator 17 Platinum Edition is that you can play online and compete with other players, as well as download farming simulator 2017 mods for ultimate farming experience.


The main features of Farming Simulator 17 Platinum Edition are the following:
- Three extra large open worlds, including new South American world with unique landscape.
- Harvesting different types of crops, including the brand new addition of sugarcanes.
- 80 different farming manufacturers and 280 farming vehicles to choose from.
- Taking care of livestock, with new addition being the Brahman cattle.
- Transport of all your farming goods with plenty of nice new trucks, trailers or drivable trains.
- Playing online with friends, expanding your farm, and downloading different mods specially designed by the members of the passionate gaming community.


Videos
Files