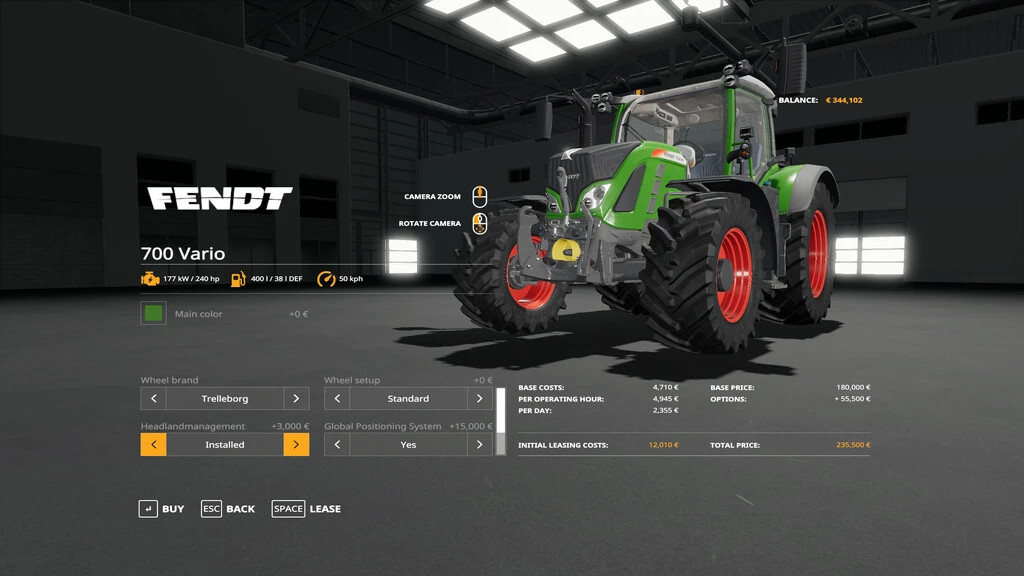 Headland Management
v 1.2
Latest Update
latest

Version

v 1.2
8 months ago
ChangeLog V1.2.0.0:
- Added rear trigger for headland automatic
- Fixed lua error when using ridge marker switching on some DLC implements. Note: These implements can't be switched by this mod, because they are not addressable by script.
- Changed gui layout to work better on high resolutions
Many thanks to team Agrarplay and the project LU Wohnzimmer for the extensive test-support!
Description:
Tractors, field sprayers, mowers and harvesters headland management.
By pressing a button, vehicle functions can be combined and activated by headland management to simplify turning maneuvers while working in the field. All functions can be individually activated and deactivated for each vehicle through a GUI to optimally adapt the work.
Before using the headland management system, the respective vehicle in the shop or workshop must be added as a configuration once. The costs are 3000,-.
It can be turned on and off in the vehicle by Shift-X. Alternatively, various buttons can be configured for activation and deactivation. The GUI is called by Shift+Ctrl+X by default.
Included functions:
- Reduce speed and raise again. Cruise control.
- Raise and lower the lowered tools.
- Turn plough, single or two-stage (by centre).
- Raise and change the markers of the ridge.
- Disengage and re-engage hydraulic and power start(s).
- Beep when management of the headland is activated.
Furthermore, if there is VCA Mod (FS19_VehicleControlAddon):.
- Disable and reactivate GPS guidance on track.
- Disengage active differential locks and re-engage them.
In addition, when Guidance Steering Mod is available (FS19_guidanceSteering):.
- Disabling and reactivating the GPS guidance.
For the current SpeedControl Mod (FS19_zzzSpeedControl):.
- Adjustments to speed can also be made by changing the cruise control level.
Ideas for later releases:.
- Adjustable sequence of work steps.
- Selectable time interval between each step of the work.
Further ideas or wishes are welcome at https://github.com/jason0611/FS19_HeadlandManagement
Credits:
Jason06 / Glowins Modschmiede
About Mod
| | |
| --- | --- |
| Latest Version | v 1.2 |
| Game | FS 19 |
| Category | Implements & Tools |
| Game Version | 1.7.1 |
| Downloads | 289 |
| Created | 10 months ago |
| Last Updated | 8 months ago |