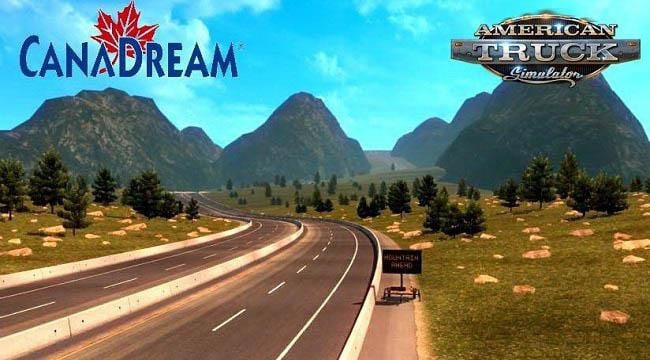 Latest Update
Changelog v2.11.9
Update for 1.39
Changelog v2.11.8
Removed all 17 of the custom tollgate_at prefabs added by ManiaX and the associated tollbooth.sii, which caused incompatibilities with the Mexico maps tollbooths.
Also, converted city and country defs from sii to sui, forgot to do in 2.11
A Connection fix for an area in New York between C2C and CanaDream
Changelog 2.11
Updated for 1.38
Changelog 2.10
Updated for 1.37
Fix road connections between C2C and CanaDream in Montana, Minnesota and Michigan
Changelog 2.9.4
License plate font fix by Sunrise
Also removed two unused environment sounds (ab.ogg and ad.ogg) in preparation for FMOD/1.37 (Strong winds)
Changelog 2.9.3
Removed sector -0015-0015 for Shelby, MT in the Montana Expansion area
Removed sector -0008-0014 for Williston in the Montana Expansion area
Worked on Connection to Saskatchewan, Canada from Culbertson, MT
Changes in 2.9.2
Fixed some gaps, and redid a connection to CanaDream in sector -0009-0014
Changes in 2.9.1
Fix a gap on I-15 at Shelby, Montana

Changes in 2.9
Update for 1.36
Changes in 2.8.17
Fixed of the broken road on I-86 near Rochester, NY.
Changes 2.8.16
Fixed Horrible curve near Bangor Maine
Fixed, with Mantrid's help a phantom road near Ithica, NY that was throwing errors in the map editor
Changes 2.8.15
Removed sectors from the Montana area to maintain compatibility with C2C now that Montana is in there now.
Also, removed the excessive number of sign images from the map for Canada-401 east of Detroit.
Changes 2.8.14:
Fixed bugs
Changes 2.8.12:
Fix blocker left in map on exit ramp for I-15 North on I-90 in Butte, MT going to Canada. Also Removed other blockers at that exit area.
New Version Canadream 2.11.9:


Coast to Coast map 2.11.8 minimum is REQUIRED for playing or game crash
Priority:
1-CanaDream 2.11.9
2-Coast to Coast 2.11.9

compatible ATS 1.39
compatible C2C 2.11.9

Link 3 Addon compability for Midwest Expansion

Credits:
ManiaX, update ShirBlackspots