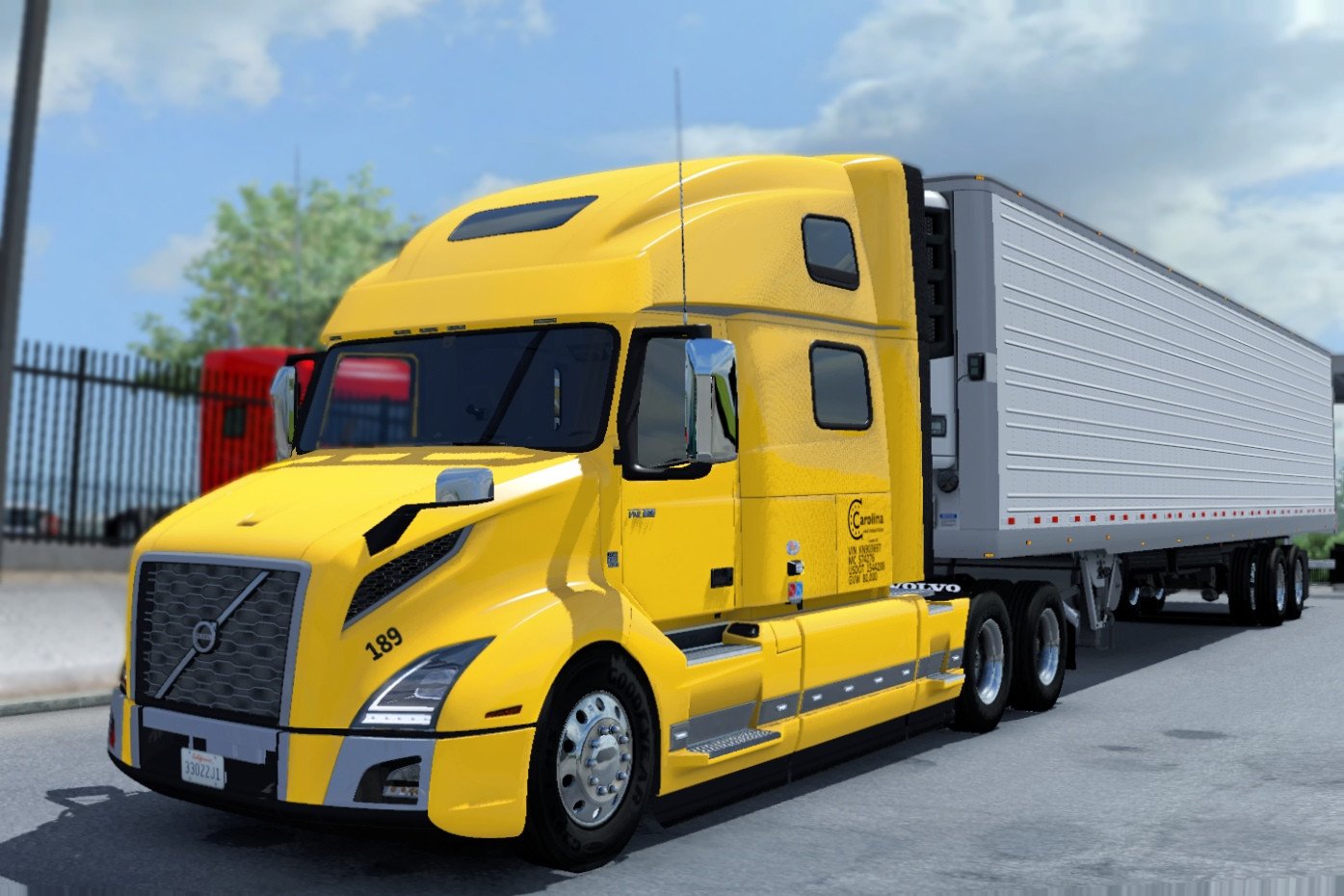 Latest Update
Changelog v2.26 (31.10.20)

Fixed bugs
Update for 1.39
Changelog v2.25 from 17.07.20
Fixes the gearbox error
and missing the VNL in traffic.
Changelog v2.25
Added Basic mirrors
Reduced wiper sound level
Reworked the dashboard computer
Update to the sounds
Change log v2.24
Added shadows to interior
Updated engine pricing and shift points
Rebaked AO to 4k
Update for patch 1.37 (Volvo engine sound thanks to Leen)
Added window animations
Added skirtless option thanks to Bigjoe
Improved window markings thanks to proudvet1
Added EX-Guard XG-125 and XG-150 bullbars
Added "Duty" version of the full chrome bumper
Adjusted front banner
Update to the dashboard computer
Bunch of little fixes
Tweaks to the truck and the sound.
Removed obsolete sound definitions,
Bugs fixed
Small sound settings
Change log v2.23:
Added auto_mode_name to automatic gearboxes
Changelog v2.22:
Updated dashboard computer with features introduced in patch 1.36
Added wiper shadow for interior view
Separated headlights from the chassis
Added realistic headlight pattern by hastantyo as an option
Added xenon headlights as an option
Changes in 2.21:
Tweaks and fixes to the dashboard computer
Updated collison of the hood
Added collisions to bumpers
Fixed steering wheel rotation to insure compatibility with DLCs
Updated reflectivness of the painted parts
Changes in 2.20:
Fixed dealer and company files to insure compatibility with other mods
Improved lights on the back of the cab
Separated chrome intake part
Separated bumper part
Added paint and plastic options for bumper part
Changes in 2.19
Updated engines and gearboxes
New Cummins X15 sounds thanks to Kriechbaum
Separated front grill
Separated grill mesh
Added paint and plastic options for front grill
Added paint and plastic options for front grill mesh
Changelog v2.18
Fixed traffic model
Added compatibility with the chainsaw toy.
Changelog 2.17:
Added Realistic Headlight Beam Pattern by hastantyo
Changed location on the template for Flow below parts
Improved the look of blinker indicators on mirrors
Added collision boxes for main mirrors
Added collision boxes for hood mirrors
Added collision boxes for bullbars
Adjusted mirror locators for even view
Improved the logo on the steering wheel
Improved startup animation
Updated shift points
Standalone
Cleanup of textures
Changed cabin files to 740, 760 and 860.sii
Added Adaptive Loading and Tag chassies
Added proper engines
Removed engines that are not available in real life
Cleanup of interior textures
Added proprer dashboard lights
Reworked animations
Added VNL steering wheel
Link 3 SISL & DLC Cabin addonLink 4 TemplateCredits:
FRANCK PERU, Update galimim